Last Updated on May 19, 2021
You've probably been seeing corsets everywhere, but are they in style this year?
Billie Eilish surprised everyone in her cover for British Vogue's June 2021 issue. The singer, who's known for wearing baggy clothes as a form of personal protest, wore an exquisite blush corset dress by Andreas Kronthaler for Vivienne Westwood.
We're taking it as the final confirmation of what we've been noticing since the start of the year: corsets are back in 2021.
There was a surge in online searches for corsets in January this year, influenced by the hit Netflix series Bridgerton, which was released the month prior.
Since then, we've been seeing corsets everywhere on social media. TikTok is, of course, on the trend. From challenges to instructionals, videos about this fashion piece have garnered a collective 1 billion — yes, billion — views.
Celebrities are on board too. Kylie Jenner, Kim Kardashian and Gigi Hadid have been spotted wearing the trend this year, inspiring their fans to hop on the trend too.
READ MORE: Where to buy custom made corsets
Corsets in fashion and pop culture
Corsets have come a long way. What used to be worn as an undergarment is now front and centre.
Madonna put them back in the limelight in the '80s with the now-iconic cone bra corset from Jean Paul Gaultier.
They went off the radar for a bit but resurfaced in the noughties and were often worn as a top with jeans. And, of course, who can forget about Britney Spears's corset-inspired patchwork denim dress?
We saw them here and there in the 2010s, but we can say it's only now that they're truly back.
READ MORE: 13 halter neck tops to wear to embrace 90s fashion
Not sure how to style them? Once you know how, it's easy.
Team them with slouchy jeans for a 90s-style look, or wear them over dresses to highlight your waist. If you want more tips, read our article on how to style them here.
Meanwhile we've found some of the cutest on the high street now.
READ MORE: 11 crochet tops your nan would be proud of
Buy now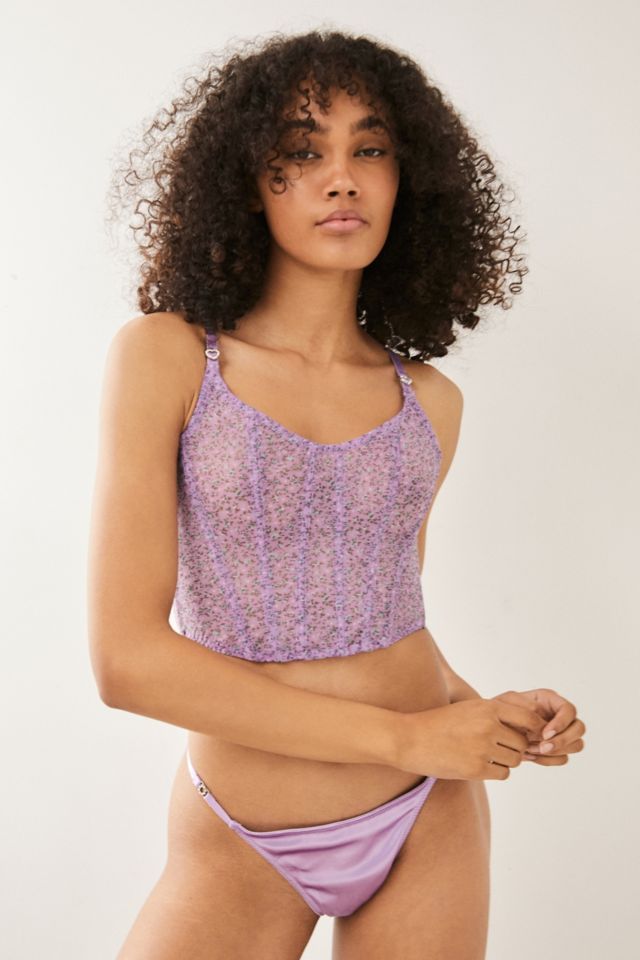 Out From Under Floral Mesh Corset, £35, Urban Outfitters – buy now
Black Satin Corset, £18, ASOS COLLUSION – buy now
Denim Corset Top, £14.99, Lee x H&M – buy now
Ribbed Corset Top, £15, Monki – buy now