Last Updated on October 1, 2021
Remember Stand Studio's gorgeous checkerboard coat from last year?
If you missed out on the original, you'll be glad to know that high street brand River Island has dropped one that's almost identical.
READ MORE: This Maximalist Top Will Get You So Many Compliments
The borg coat in question is from the label's Studio collection and is just £140, far more affordable than Stand Studio's original seen below.
As predicted, the borg coat from River Island is selling fast. Sizes XS and L have already sold out, but if you move quickly you can still get it in sizes S and M.
It's not the first time the high street hero has taken inspiration from designers and recreated some of the most iconic – and expensive – pieces.
Earlier this year, they dropped one of the best Burberry trench coat dupes we've ever seen. As I'm sure you can guess, it sold out fast.
While we don't condone fast fashion brands stealing designs from small businesses, creatives and designers (something they often do), it makes high end fashion much more accessible to those on a tight budget and sometimes those who struggle to find designer clothes in their sizes.
As the original has now sold out, it also means those who were desperate to get their hands on it the first time around can get something that resembles the original.
Unfortunately it doesn't appear to come in sizes above XL, but I'm holding out hope that it's yet to drop.
READ MORE: New in From Zara: 12 Must-See Pieces That Have Literally Just Dropped
Buy now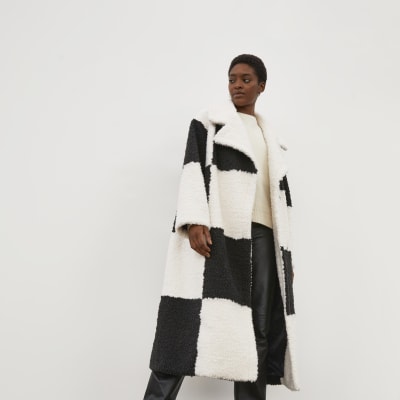 Black & White RI Studio Borg Coat, £140, River Island – buy now
For fashion advice and chit-chat, join our Facebook group What To Wear Next or follow us on Instagram. 
Wear Next may receive a small commission if you click a link from one of our articles onto a retail website and make a purchase.