Last Updated on March 1, 2021
Just when you'd recovered from Ivy Park's last collection, Beyoncé has released Icy Park.
The collection finally launched last month after Bey teased fans with the campaign video and the most in-demand looks on her Instagram, so now we can get our hands on it ourselves.
From metallic puffer coats, to snow suits and trainers, there's so much we're excited about.
Read on for everything you need to know.
READ MORE: Beyoncé's best ever Instagram fashion moments
Where can I buy Icy Park?
Head to adidas.com/ivypark to buy the collection now.
It is also sold on ASOS tomorrow, so if you're a premium member, you'll be able to make the most out of that free delivery.
When is Icy Park be available to buy?
Ivy Park x Adidas' third collection Icy Park launched on February 19th 2021 at adidas.com/ivypark. It hit stores in many countries the following day, but as we remain in lockdown here in the UK, customers will only be able to purchase the collection online.
Read more about the collection and the key pieces you can still buy here.
READ MORE: Everything you need to know about Simone Rocha x H&M
How much will the Icy Park collection cost?
The prices range from £20 for accessories to £620 for outerwear.
What are the key pieces of the Icy Park collection?
Five new footwear styles will drop, including updated versions of the Ivy Park Ultra Boost, Forum Mid, Forum Lo, and Super Sleek sneakers, as well as a new Super Sleek Boot – all in white.
There are a selection of brown and white looks in the collection, while a printed pink one-piece worn by both Hailey Bieber and Bey in the video is set to be a sell out.
In the announcement Adidas said, 'Effortlessly functional, relentlessly stylish, and always inclusive, the collection features a number of bold apparel pieces matched with a selection of complimentary accessories.
'Elevating versatility with essential winter wear, the "ICY PARK" apparel offering infuses alpine silhouettes with faux shearling and performance towel terry materials, adding texture for the quintessential cozy vibe.
'Meanwhile, bringing the collection's evocative theme to life, select apparel and accessories boast a brand new IVY PARK monogram, while others sport a playful ski tag print.'
READ MORE: The key pieces from adidas x Ivy Park's Icy Park and where to buy them now
Is the Icy Park collection size inclusive?
Ivy Park Drip 2 was size inclusive, ranging from XXXS to 4X in many styles.
The collection utilised Unite Fit, Adidas' genderless and inclusive sizing that guarantees anyone to find apparel to fit them.
However the last collection was criticised on social media for coming up small, meaning many were left disappointed with their purchases.
Icy Park will be available in the same inclusive sizes – from XXXS to 4X.
READ MORE: 2021 Trends: The prettiest pink pieces we love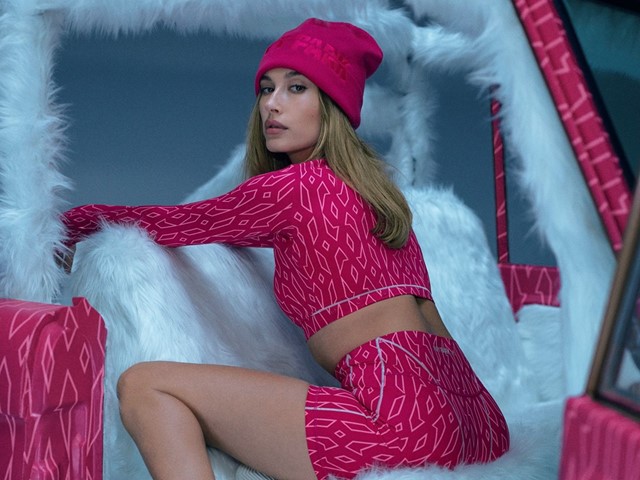 Who stars in the Icy Park campaign?
As well as Beyoncé, Gucci Mane, Hailey Bieber, Kaash Paige, Akesha Murray, Shi Gray, and Kyla Coleman star in the campaign, which has a soundtrack of Melii's Icey.
Icy Park x Adidas in Pictures
For fashion advice and general chit-chat, join our Facebook group What To Wear Next.
READ MORE: We've found the best pieces in the sales so you don't have to
READ MORE: 11 initial necklaces to add to your jewellery box