Sustainable fashion used to be considered dull, but as the realities of fast fashion have come clearer, ethical fashion brands have upped their game.
Now non fast fashion brands are more stylish than ever before and much more imaginative too.
We truly believe some of the most creative designers champion sustainability, so here we're sharing 8 of the best sustainable fashion brands we could find.
READ MORE: 6 sustainable fashion brands who make beautiful clothes to order
E.L.V Denim
Upcycled denim and leather jumpsuit, £510, E.L.V Denim at Selfridges – buy now
E.L.V offer eco-friendly denim, but while their garments are sustainable, they certainly don't compromise on style.
E.L.V, which stands for East London Vintage, take discarded denim and rework it to create gorgeous designs – including the above jumpsuit, which includes 30% upcycled leather from car manufacturer Hyundai.
Every piece of denim used in production has absolutely no impact on the environment, instead being saved from a destiny of being dumped in landfill.
While an average pair of new jeans uses up 7,000 litres of water being made, E.L.V. jeans only requires 7 litres. They're not cheap, but worth every penny.
House Of Sunny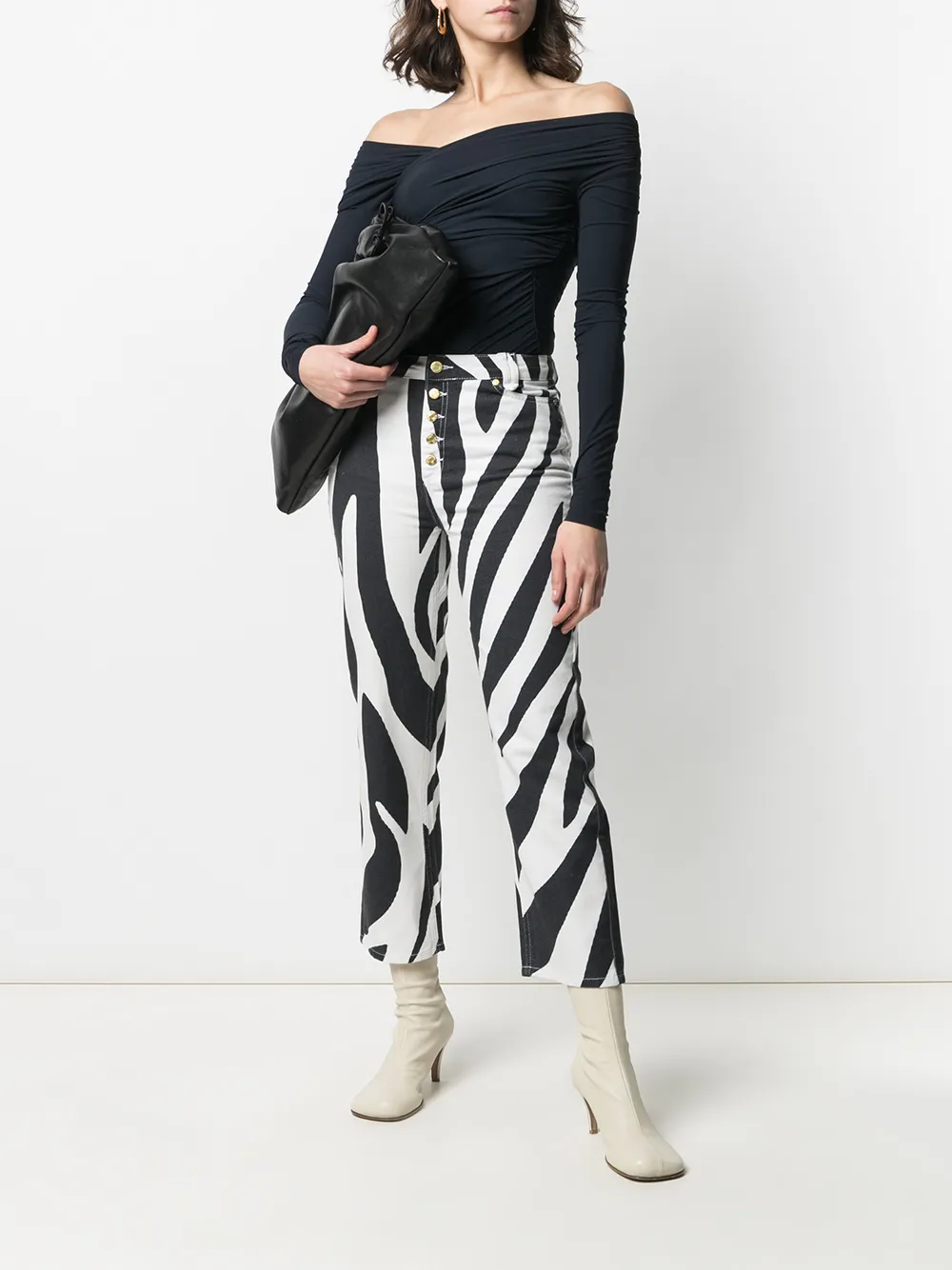 Jeans, £116, House of Sunny at Farfetch – buy now
If 70s prints are your bag, you'll LOVE House Of Sunny.
While their retro luxe designs are favoured by celebrities such as Kendall Jenner and Bella Hadid, they're eco-friendly too.
Producing just two seasons a year, HoS are a slow fashion brand, offering bio-degradable bags and printed jeans produced using e-flow technology to reduce water consumption.
Read more about their sustainability policy and ethical practises here.
Paloma Wool
Knit top, £115, Paloma Wool at Liberty – buy now
Another non fast fashion brand we simply can't get enough of is Spanish label Paloma Wool.
Proving that sustainable isn't synonymous with boring, the Barcelona-born brand's collection is full of trippy prints, sixties-style designs and luxurious knitwear.
Paloma Wool are completely transparent about how their clothes are produced, clearly listing their local manufacturers on their website.
Every garment is handcrafted and bloody gorgeous. We're sold.
READ MORE: 6 books about fast fashion everyone should read
Sézane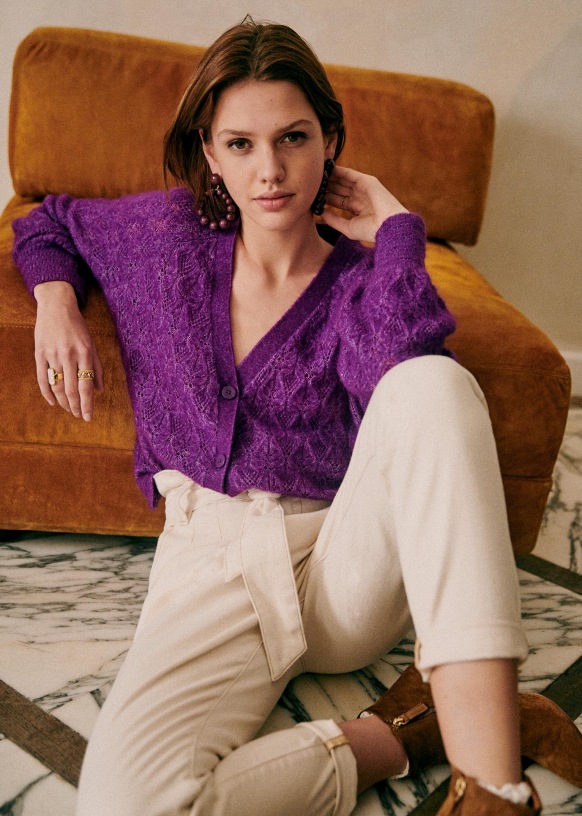 Jumper, £100, Sézane – buy now
Sézane are all about beautiful, good quality, perfectly-cut clothing that will last a lifetime.
They produce four collections a year, using waitlists to manage demand. Unlike brands like Boohoo and Pretty Little Thing, they're transparent about exactly where their garments are made and use a variety of sustainable materials in their clothes.
Sézane's designs are timeless, with high quality knitwear, retro-style tees and beautifully crafted leather bags, ideal for creating a sustainable staple wardrobe.
Read this fantastic article about Sézane's sustainability pledge by Curiously Conscious.
JUNK LDN
Bikini, from £45, JUNK LDN – buy now
Kitsch swimwear made from recycled plastic bottles? Count us in.
If you're stuck at home dreaming about going on holiday once the pandemic is over, JUNK LDN offer some of the cutest swimwear out there – and best of all, it's eco-friendly.
Every piece of swimwear is made using either ECONYL, a high-quality recycled yarn made from regenerated fishing nets, industry offcuts, and ocean waste, or REPREVE, recycled plastic bottles.
JUNK LDN encourage consumers to buy one bikini to keep forever, ditching trends to create timeless bikinis in block colours.
Roop
Bag, £75, Roop at Selfridges – buy now
You couldn't get much more homegrown than Roop.
Designer and creator Natasha Fernandes Anjo handmakes all of the bags from her studio in Manchester, using vintage or remnant fabrics to create her famous tied furoshiki bags.
They come in a variety of colours and patterns, but you'll need to be quick as these babies sell out fast.
Roop also offer rental, lending out their bags to clothing rental app By Rotation. Read more about how to join the clothing rental movement here.
Girlfriend Collective
Sports bra, £35, Girlfriend Collective at Net-a-porter – buy now
Leggings, £62, Girlfriend Collective at Net-a-porter – buy now
Like JUNK LDN, activewear brand Girlfriend Collective make the most of resources available in abundance, creating leggings from recycled bottles.
They offer simple, stylish and beautifully flattering activewear in a variety of colours for every body, with sizes going up to a 6 XL.
Girlfriend Collective offer complete transparency, breaking down everything used to create their garments and disclosing the factories they use to manufacture their clothes here.
We wouldn't want to get our activewear from anywhere else.
READ MORE: 6 sustainable and plus size fashion brands to know now
People Tree
Dress, £59, People Tree – buy now
If you've heard of Safia Minney, chances are you know People Tree.
The fashion retailer is the original sustainable fashion brand after launching way back in 1991.
They claim that 'every product is made to the highest ethical and environmental standards from start to finish,' meaning that unlike some greenwashing brands, you can trust that People Tree are doing good.
From socks, to dresses, People Tree have pretty much everything available to create a sustainable wardrobe, even offering a vegan section for those avoiding any animal products.
READ MORE: Can H&M's Conscious collection ever really be sustainable?
READ MORE: Pretty Little Thing are selling clothes for 4p – but how much do they pay garment workers?
For fashion advice and general chit-chat, join our Facebook group What To Wear Next.
Wear Next may receive a small commission if you click a link from one of our articles onto a retail website and make a purchase.