Love Versace's platforms? These incredible sky-high shoes look almost exactly like the original, without the designer price tag.
After nearly two years of prioritizing comfort, prepare yourself; platform heels are back with a bang.
READ MORE: The Jacket Trend Set To Dominate This Winter
These are not your average platforms either. Sitting on a double three-inch heel, the coveted sky high Versace Medusa Aevitas pumps have become one of this season's hottest footwear trends.
They first appeared on the SS22 catwalk, with models showcasing their chunky shoes in a variety of bold colours, including hot pink, scarlet and bright yellow.
Since then they have snowballed in popularity, with more and more celebrities starting to incorporate the Medusa platform pumps into their looks, including Dua Lipa, Beyoncé, Ariana Grande, Winnie Harlow and Addison Rae, to name a few.
It probably comes as no surprise that they have become one of Versace's most popular pieces to date.
READ MORE: Desperate For a Dyson Airwrap But Can't Afford to Splurge? Shop These Dupes Instead
You can follow their lead by pairing the platforms with mini skirts and dresses, with the option to add a pair of matching logo tights for the ultimate in noughties style.
If the idea of flashing your pins fills you with dread, try pairing them with cropped flared jeans; just make sure they're short enough to show off the incredible embellished ankle strap.
With the hefty £1,080 price tag, Versace's might not be for everyone, but there are plenty of great high street options.
For the best platform shoes on the market, look no further than ASOS, Public Desire and Glamorous. They have some of the best high street options on the market with prices starting at just £29.99.
These are a bargain considering they're the perfect heel that can be worn any season; they can be styled with tights during the winter months, or look just as good with bare legs during summer.
Here are some of the best lookalike platforms that all have the look and feel of the real Versace's without the alarming price tag.
For fashion advice and chit-chat, join our Facebook group What To Wear Next or follow us on Instagram.
Wear Next may receive a small commission if you click a link from one of our articles onto a retail website and make a purchase.
READ MORE: 7 Brands You'll Love Just as Much as Mango
Shop Platform Heels
Moonchild Pink Satin Platform Heels, £34.99, Public Desire – buy now
Moonchild Green Satin Platform Heels, £34.99, Public Desire – buy now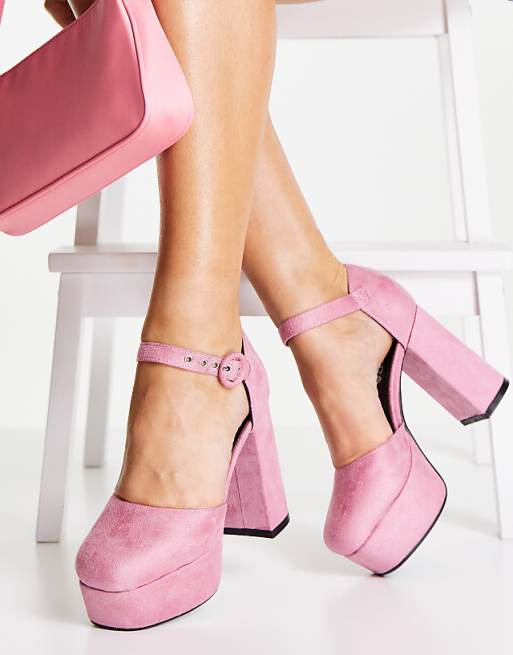 Lamoda Platform Heels In Pale Pink, £44, ASOS – buy now
Knotted Platform Heeled Sandals In Gold, £27, ASOS – buy now
Layered platform heel sandals in pink satin, £32, Glamorous – buy now
Pluto platform heeled shoes in magenta, £44, ASOS – buy now
Peaked platform high heeled shoes in green, £36, ASOS – buy now
Priority platform high heeled shoes in white, £40, ASOS – buy now
Pluto platform heeled shoes in black, £44, ASOS – buy now